FAQs
Fabric
1. Are all of products made from 100% Mulberry silk?
Yes, we guarantee that all of our products, unless stated otherwise on the product page, are made of 100% pure and natural long fiber Mulberry silk cultivated from the best silk farms in China. No chemicals are added in our production process and the use of any machinery or chemical additives that could potentially compromise the quality of our silk has been strictly forbidden to ensure our customers enjoy the perfectly soft and smooth feel of our products.
All of our silk products are inspected at every step of their production to make sure the process strictly comply with ISO9001, the internationally recognized standard of quality management. If you still have doubts, we can send you free silk swatches which you can perform the Burn Test on (see the picture below).

2. Is my silk duvet/comforter/sheet chemical free?
We at Freedomsilk believe a good night's sleep means more to your health than anything else in the world, and we strive to provide you with the healthiest and most comfortable sleeping environment with our products. We promise that our silk production process, starting from the breeding of silkworms, to cocoon collection, to thread-unraveling, to weaving the threads into silk fabrics, does not involve any chemical additives; the dye we use to add variety to our color selection is almost entirely made from natural pollen and contains little chemical additives as well; not to mention that our products are all tested for harmful substances after production is completed to ensure absolute safety of our customers.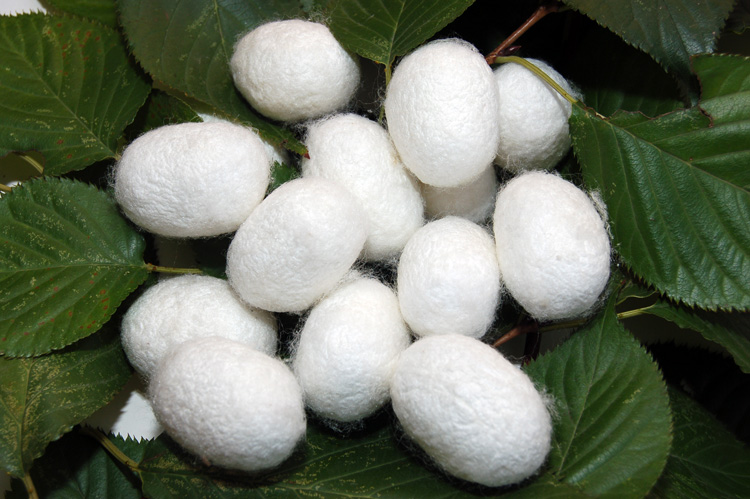 3. How are Freedomsilk's silk fabric dyed?
In order to provide our customers with a proper selection of colors, every color, with the exception of ivory, have to be dyed onto the silk fabric (ivory is the natural color of silk). However, the dying agents we use are made from natural pollen with very little industrial chemical additives so that our bedding products maintain silk's natural affinity with skin regardless if they are dyed or not.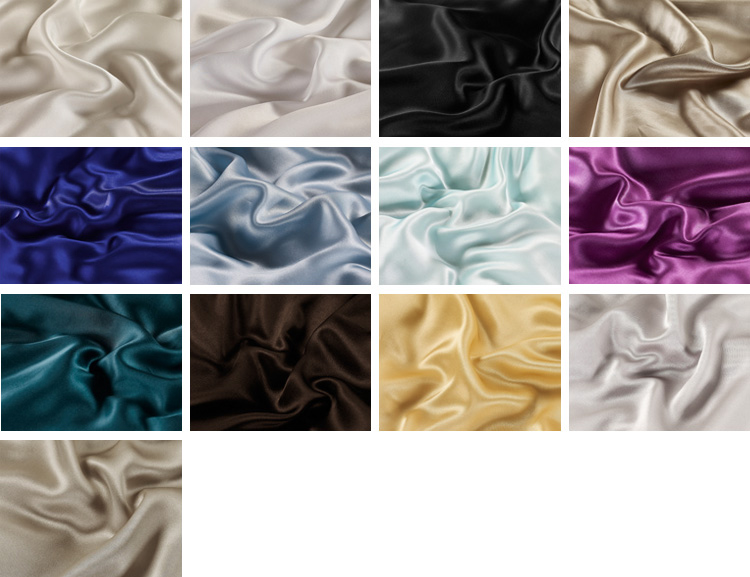 4. What's momme count and what are the differences between 19 momme, 22 momme and 25 momme?
Momme is a standard way of measuring the weight of silk fabric and it is calculated by pound. The standard measurement is by using a piece of fabric that is 100 yards long and 45 inches wide. The higher the momme weight the heavier the fabric. It means that the higher the momme count is, the heavier and thicker silk was used during the weaving process. If the piece of silk fabric weighs 19 pounds then the momme weight is 19, and so on. The higher the momme count is, the more expensive the price is.
5.What's the OEKO-Tex label on silk products?
Oeko-Tex Standard 100 is an independent testing and certification system for textile products from all stages of production (fibres, yarns, fabrics, ready-to-use end products, including accessories) along the textile value chain. The OEKO-TEX® label indicates the additional benefits of tested safety for skin-friendly clothing and other textiles to interested end users. The test label therefore provides an important decision-making tool for purchasing textiles. Freedomsilk all silk bedding fabrics are certified by Oeko-Tex, completely chemical-free, no harmful substance added before and during the process of manufacture. Please feel assured to choose and purchase.
Products
Pillow & Pillowcases
6. How do I close the pillowcase? Zipper or envelope?
Freedomsilk offers both pillowcases with hidden zipper closure and pillowcases with envelope closure. You can see the following picture to see the difference.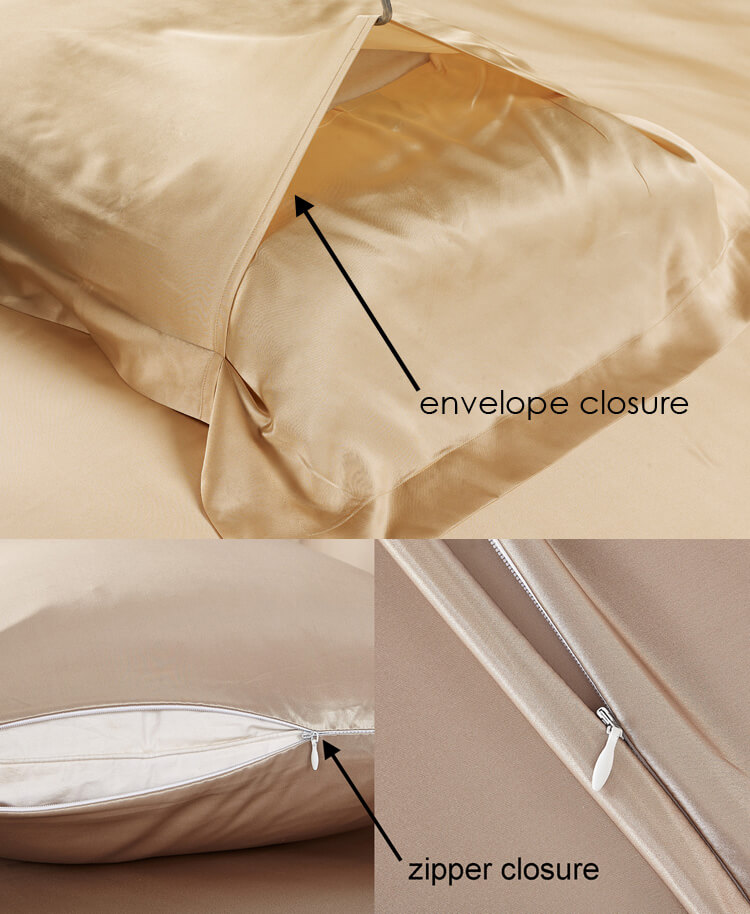 7. Why is your comforter called "silk-FITTED"?
Normally, cocoons of Mulberry silkworm are unraveled to make spindles of single-strand silk threads for later use. In the case of making silk comforters however, this process is replaced with another in which the cocoons are stretched many different times using proper instruments and with hands to eventually form a thin, flat layer of tangled silk threads of the required dimensions. Tens or even hundreds of these layers are then stacked on top of each other until proper weight has been achieved, and the result is the silk floss filling in a silk comforter. The filling is then enclosed with a cotton or silk shell and tacked on the sides to the shell to prevent the filling from clumping up or moving around, and the result is our extremely light-weight and breathable silk comforter.
Since the silk floss filling is fitted to the comforter shell and not stuffed, we call our comforters "silk-fitted".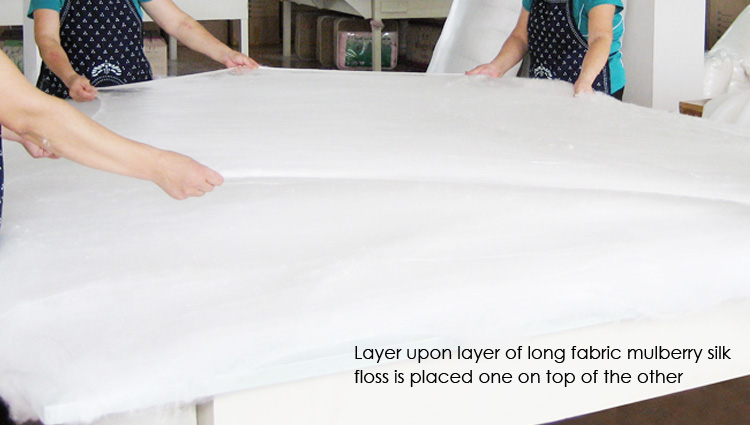 8. How does silk comforter keep warm or cool?
Too hot to sleep in summer? Too cold to sleep in winter? I believe, all of us have been in such a delimma. In order to sleep well, the temperature of your room and comforter is very important.
A research says that the most ideal sleeping environment commands 33±1℃ in temperature and 50±5%(RH)in humidity. So the judgement standard for a good comforter is to see if it can maintain a very stable temperature and will do a fine job of balancing humidity. Silk comforter has a good function of absorbing and liberating moisture, so it can make your sleeping environment stay at more constant temperature than most comforters in other fabric.
<Advantage Of Silk Comforter>
1.Absorb the moisture quickly to adjust the temperature
It is said that we may sweat almost 200cc when sleeping. So, the breathability of a comforter is very important for a comfortable sleeping environment. silk fibroin peptide chain consists lots of hydrophile groups, so the hygroscopicity of silk is 1.5 times better than that of cotton fiber. Silk can absorb and emit human body sweat quickly and liberate the moisture more quickly than other fiber. This explains why silk comforter help keep human body temperature at a more constant temperature throughout the night.
2.Save the warm air to adjust the temperature
What is more, silk comforters are designed to allow air to flow more freely and thus regulate your body heat. The result is your body stays cool in summer and warm in winter.
Although silk comforter is a little expensive, it has so many benefits such as regulating temperature and its breathability. So buy yourself a silk comforter to have a restful sleep.
9. Can I remove/wash the shell on my silk comforter?
Unfortunately, because the silk flossing filling in our silk comforters are tacked to the shell, we would strongly advise against any attempts to remove the shell or wash it by yourself, as it could permanently damage the silk filling and the shell, and it would be impractical to put them back together and expect the comforter to work as well as before.
The best way to keep your silk comforter clean is to always cover it with a good duvet cover. Hang it up in the shade in a place with good air circulation every half a year would be enough to keep the comforter fresh and comfy. In the case that the comforter is dirtied by outside influences such as pets and younger kids and needs cleaning, we recommend you to send the entire comforter to a dry cleaner and have it dry cleaned.
10. How do I close the duvet cover?
You can open/close the duvet cover using the hidden zipper placed under the top edge of the cover. (See picture for the exact position of the hidden zipper.) There are 3 advantages to using hidden zippers on duvet covers:
1. Using a regular zipper placed on the surface/edge of the duvet cover can break or weaken the sense of luxury of the cover.
2. Hidden zippers are covered with a layer of silk which makes it less likely to cause abrasions on your skin.
3. The cover that protects your skin also protects the zipper from breaking, granting longer-lifespan to the zipper and less trouble for you.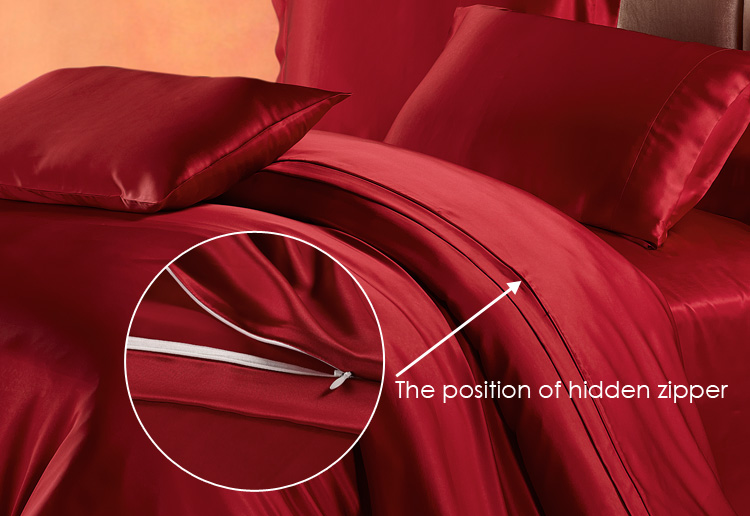 11. How do I decide which season/weight's comforter will be best suited for my needs?
There are a few factors to consider when choosing the right comforter for yourself or your family, but the most important one is the usual temperature in your bedroom. If your bedroom is not A/C'd then obviously this temperature could fluctuate with season, so it's best if you choose the season in which you would like to sleep in the silk comforter first. Unfortunately, there is no industry standard for name-weight-temperature correlation yet, so it could be difficult to tell if a winter comforter is actually for winter as it could be marketed to someone whose winter is a lot milder than your own. There is a general guideline, however: For a bedroom at 68F/20C, a queen size comforter weighing approximately 0.9-1kg/2lb should best suit your needs. With every 3C/6F degree decrease, add 0.3-0.5kg/0.6-0.9lb to the weight of the comforter. So if you are expecting to sleep in a bedroom with a temperature of 14C/57F in the fall/winter season, the comforter should weigh approximately 1.5-2kg/3-4lb. Of course, this is just a rough estimate and only used as a reference.
Below is a chart detailing the weights of all of Freedomsilk's comforters in different sizes.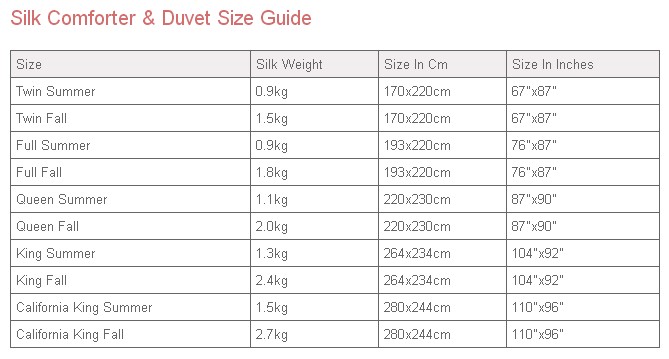 12. What is your comforters warranty?
Freedomsilk's comforters come with our 45-day satisfaction money back guarantee. We also offer our 10-year warranty of the comforters from the date of purchase that covers manufacturer's defects but does not cover normal wear and tear. Washing and care instructions must be followed.
13. How To Choose Right Fitted Silk Sheets?
We spend about a third of our lives sleeping. When you spend this much time in bed, it's worth your while to make it as comfortable as possible. Then choosing right fitted silk sheets becomes more important as the fitted sheets play the role of preventing your flat sheet sliding off the bed and helping you have a more soft night-dream.
With that said, we should choose extra deep silk fitted sheets so that they can cover our beds completely. If you buy a mattress measured 180x200cm, then your fitted sheet must be 180x200x25cm to work with the mattress perfectly. How can we measure a fitted sheet correctly? We can use a ruler or fixed tape measure, measure the depth from top seam to the bottom seam, in several places to be sure you have the right fit.
14. I find your products more expensive compared to those made from other materials, why is that?
Before delving into specific details behind how we price our items, we will give an overview on how our products are produced, from scratch:
The Mulberry silk we use to make our products come from silkworms of the Bombyx mori moth. The silkworms, once hatched from the eggs produced by the mother moth, are immediately placed in a strictly controlled environment with constant temperature, humidity, and natural environmental balance. Sound over a certain limit are strictly prohibited as it may startle the larvae and hinder silk production. The silkworms are fed constantly with fresh Mulberry leaves that are completely pesticide and fertilizer free for over one month's time before they start spinning their cocoon. After completing their cocoon in 3-8 days, the silkworms start pupating and the cocoons are ripe for harvest.
The cocoons are first kept in a warm place for several days, while workers carefully watch and ensure none of the worms hatch and break the silk filaments. The cocoons are then placed in water and softened silk filament can then be unwound from the cocoon. Mulberry silk threads are then created by weaving several silk filaments together, and the threads are weaved into sheets of silk fabric after.
A single 19mm kingsize silk sheet requires approximately 3000-5000 cocoons to make, and this is without taking into account the amount of silk that has to be picked out and thrown away due to having lower quality fibers. 22 and 25mm silk fabrics requires even more cocoons due to higher requirement of fiber quality. Putting together the cost of breeding the silkworms, unraveling threads, and weaving the threads which all involve a good amount of manual operation from our skilled silk workers, it is not surprising that just our silk fabric alone is more costly than materials like cotton and polyester, the production of which has been largely automated and requires little human intervention.
If you search around for other bedding alternatives, you will find the down duvets are roughly the same or slightly higher priced than silk items in the North American market, and yet offers significant less benefits to one's health. The hypoallergenic version of down duvets are decidedly more expensive than silk duvets which are hypoallergenic by nature. You can read about a complete list of silk benefits in our Silk FAQ section here.
Now, looking back on our prices, we ask you to think on this question: "Do I think it's reasonable to pay a slightly expensive price for something as luxurious, comfortable and beneficial to my health as Freedomsilk's bedding products that is actually 20%-25% percent less expensive than other bedding products of similar or lesser quality?" Remember to also take into account our free and extremely fast shipping, responsive and helpful customer service and the unbeatable 45-day no hassle return policy, and you should find that our prices are, in fact, not that expensive after all.
15.How to clean and care for silk bedding sheets?
Wash silk sheets by hand the first few times after purchase and use. This protects the silk's sheen and softens the fibers. Use only lukewarm water (30° Celsius/85° Fahrenheit, or lower) and a gentle, biodegradable detergent or a detergent specially formulated for silk. Resist the urge to rub the fabric vigorously, and don't let silk sheets soak too long.
Machine-washable in lukewarm water (30° Celsius/85° Fahrenheit, or lower) on most gentle cycle available. Give your silk sheets the room they need to get cleaned: Wash them on their own, without any other items. Use neutral or special detergent for silk. Minimize spin time.
Hang dry if possible. Direct sunlight may cause color to fade, especially in darker items. Tumble dry on a cool setting if using drying machine. Avoid drying for extended period of time.
Iron when slightly damp using a cool setting. Always iron on the inside.
Keep out of touch of pets/sharp objects.
Sleepwear
16.Why the price of your silk sleepwear is lower than that of other manufacturers?
We are the manufacturer of many online brands so all our silk sleepwear and silk bedding sets are on affordable wholesale price with low profit.
17. What button do you use on your sleepwear?
MOP (mother of pearl) is one of the best quality of clothing buttons choices on the market. Because it is made of the inner layer of pearl oysters, it carries the color of the real pearl. With a great resistance against wash and clean, it becomes a classic favorite detail for many high-quality shirts.
How to identify a MOP button?
First, MOP buttons always carry a rainbow shine while you change your viewing angle. Second, MOP buttons always look well-polished on front and back. Third, MOP buttons are always much cooler to the touch, compared to the plastic ones.
18.How to clean silk sleepwear?
Recommend hand washing in lukewarm water (30° Celsius/85° Fahrenheit, or lower).
Dry in the shade and can't spin dry. No machine wash. Wash separately from other items using a silk friendly detergent, alkaline detergent is not suitable.
Hang dry if possible. Direct sunlight may cause color to fade, especially in darker items.
19. How Often should You Replace Your Everyday Items?
1.Underwear - Every Three To Four Months
According to lingerie expert Maria Ryan, General Manager at DORINA UK, Women who wear silk knickers, should refresh their collections every six month. Note: In general, every woman should consider replacing their underwear whenever they do a seasonal wardrobe make over, so around every six months.
2.Bras - Every Six Month
It may shock you to hear that lingerie experts say they should be replaced around every six months, although it does depend how much you wear it. But if the followings happens, please do not hesitate to get a new bra.
When the hook and eye adjuster cannot be tightened enough to give a snug fit around the body and the bra rides up the back.
They couldn't maintain the best fit and lift and isn't comfortable any more stretch through wear.
3.MATTRESS - EVERY SEVEN/EIGHT YEARS
Having a comfortable, supportive bed is crucial when it comes to having a good night sleep. And while many people wait for over a decade before getting a new mattress, experts say we should be getting a new one every seven to eight years.
Lisa Artis, from the Sleep Council, said, A bed with the correct support, comfort and space will ensure you wake less, move about less, are less disturbed by your partner and are less likely to wake up feeling tired or aching. We recommend replacing your mattress around every seven to eight years. We often find many people think replacing after this time is quite excessive but if you take a £1,000 bed over seven years it only works out at 20p per night.
It is not a huge price to pay for getting a good night sleep – especially when we know how important sleep is to our health and wellbeing.
She says most people only replace their mattress when they find it uncomfortable. But even though your mattress may seem okay, it may not be supporting you correctly.
4.Pillows - EVERY TWO/THREE YEARS
Pillows should be replaced at least once every two or three years, according to experts.
Lisa said, When they have lost their loft, or height, and become lumpy, discolored or misshapen they should be replaced.
A good pillow should hold your head in the correct alignment - that is, in the same relation to your shoulders and spine as if you were standing upright with the correct posture.
It should also be tucked well into the neck and shoulder to support your head fully.
Placing My Order
20. How do I pay for my orders?
21. I placed an order on your website but I did not receive a confirmation letter, what should I do?
Our confirmation letter is sent out automatically by our ordering system. Contact us immediately if you have not received a confirmation email within 12 hours of placing your order and yet have the payment charged from your credit card/Paypal account. We will confirm your order on our side and send you another confirmation letter with your order number and order details.
There are a few possible reasons that could cause this to happen:
You have entered an incorrect or not frequently used email address when registering on our website. Since our confirmation emails are sent to the email address you registered with us, the letter will be lost.
You used the express checkout feature which uses the email address associated with your Paypal account. This email address may not be the one you currently use and it is recommended that you check both for our confirmation email.
Some email systems have filters that classify our email as junk mail so it cannot get to your inbox. It is recommended that you look into your junk mail folder before contacting us, as there is a big chance it was simply blocked by your email system.
22. What do I do if I want to change/cancel my order?
The first thing to do is send us an email or give us a call (email is preferred) stating you wish to change/cancel your order.
If at the time of cancellation/change, the item has already been shipped out to you, you can file for return/exchange. You will have to be responsible for the postage required to send the original item to our collection warehouse in the US. In the case of a return, your payment will be refunded to you after we confirm the reception of the order at our collection warehouse.
If your order has yet to be shipped, we can cancel/change your order on our side fairly quickly, and in the case of cancellation, your payment will be put back in your Paypal account/credit card within the hour.